We aim to inn full of hospitality.The ryokan wi...
Kawaguchiya Kinosaki Riverside Hotel
We aim to inn full of hospitality.The ryokan with a hot spring which stands still at Riverside of Ohtanigawa of Kinosaki, and Maruya River in Tajima.
Facilities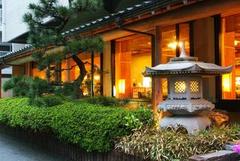 The front staff who can speak English offers stay which can feel easy.
The ryokan with a hot spring in Kinosaki Hot Spring can enjoy an air of Japan fully.
I wait for you in the Kawaguchiya kinosaki Riversidehotel loved by you since open in Showa 49. We aim to inn full of hospitality.
| | |
| --- | --- |
| Tour around to the 7 open-air public hot spring baths. Kinosaki Onsen's famous attraction 'open-air baths'. | Kinosaki's Hotel. The relaxing hotel of Japan's Sanin Coast National Park. |
| An inn set on time honored land at the mouth of the rivers. Otani River flowing through the town's center. The magnificent flowing Maruyama river. | Yukatas(cotton kimonos) are befitting of a town rich with culture and history. From here it's only a 5 minute walk to 'Jizo no Yu' and 6 minutes to 'Sato no Yu'. |
Ryokan information
Check-in

15:00~
Check-out

~10:00
Address

880-1 Yushima , Kinosaki-cho , Toyooka-city , Hyogo

Kawaguchiya Kinosaki Riverside Hotel will be indicated by the flashing number (No.96)
Room types

Western style room(4)  Japanese style room(0)  Western/Japanese style room(2)  Total(6)
Room feautres

38 rooms with full bathrooms(+bidet), 2 western style rooms with bidet restroom, all rooms with BSCS TV, refrigerator, A/C unit, safe box, hot water pot, hairdryer
Meals served in guest room

Breakfast:Yes Dinner:Yes
Private/Reserved dinning in hall

Breakfast:Yes Dinner:Yes
Hot spring

Hot spring:Yes Family(private) bath:No Open air(outdoor bath):No Open air(outdoor bath) in guest room:Yes
Baths explination

Views of the garden can be seen from the comfort of the bathtub in our rock hot spring bath. Enjoy bathing in the hot spring waters of Kinosaki, let them warm you all the way to your core.
The men's and women's sides of the bath change in the morning and evening.
Amenities

Y
Small towel
Y
Body wash
Y
Hair dryer
Y
Bidet
Y
Toothbrush,Toothpaste
Y
Soap
Y
Down comforter
Y
Hair brush,Comb
Y
Large towel
Y
Yukata
Y
Shaver
Y
Shampoo(Shampoo/Conditioner)
N
Shower cap
Y
Conditioner
Y
TV

*Y=Yes N=No


Other Amenities
Facilities

Reservable open air(outdoor) bath,Guest parking,Lounge/tea room,Vending machine,Shop,Game area,Body care service,Barrier free
Services

Copier,Fax,Wheelchair,Postal service
Facility information

Shuttle (free shuttle bus provided by Kinosaki Ryokan Information Center), massage service(extra charge), room service(until 11p.m.), banquet halls(255sq.m. -can be divided into thirds, 61sq.m, 24sq.m), tea room/cafe, entertainment corner, shop, conference hall, night lounge, karaoke rooms(2), reservable open-air baths with views(2)
Parking

Parking Available
Credit cards accepts

Most major credit cards
Kinosaki Onsen Ryokan Information Center



Need help finding your way around Kinosaki?
Please let us help.
We are located right in front of the Kinosaki train station, across the street. Between the bank and restaurant.

*Business hours 9am to 6pm. We suggest printing out a copy of this window and bringing it with you.
This will help you find your inn once you arrive in Kinosaki.

Address

78 Yushima, Kinosaki Town, Toyooka City, Hyogo Prefecture
(兵庫県豊岡市城崎町湯島78)

Access(Train)

From Osaka JR - Take the Ltd. Express Kounotori No.3* or No.5*,
or Take the Ltd. Express Kitakinki No.9*,No.13*, or No.15* to Kinosaki Onsen Station.(approx.time 163min.)

From Kyoto JR - Take the Ltd.Exp.Kinosaki No.3* or No.5* to Kinosaki Onsen station.(approx.time 145min.)

From Himeji JR - Take the Ltd.Exp.Hamakaze No.1* or No.3* to Kinosaki Onsen station.(approx.time 110min.)

*Times are limited, please check the train times at the station in advance.