A lovely little inn along the willow lined stre...
Ichidaya
A lovely little inn along the willow lined streets. Complete with private hot spring baths, offering crab and Tajima Beef (Kobe beef's origin).
Rooms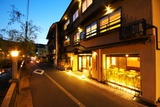 Located along the willow tree lined main street of Kinosaki Onsen. Perfectly located beside one of the famous hot springs, Jizo no Yu public hot spring bath. This beautiful modern Japanese style inn was remodeled 7 years ago.
During the winter guests can enjoy an abundant amount fresh king crab served right in their own rooms. From spring to autumn, guests can enjoy original banquet style dinners made with fresh seasonal ingredients. The popular Tajima Beef (this beef is better known as Kobe beef) can be added to any meal plan year round.
Inside the inn we have two private hot spring baths, one made of ceramic and the other of Japanese cypress wood. Guests who are staying the night and wish to try one or all seven of the open-air public hot springs around town, can use an electric pass card(Yumepa) to enter the baths.
Guests can relax in the lounge while sipping some of our rich aromatic coffee complimentary of the inn.
Remodeled Japanese style room
Max capacity:2~5persons
Complete with restroom w/ bidet, wash area, flat panel TV and refrigerator. Nine rooms were remodeled in this way after a modern Japanese concept.
Enjoy the view of the calm flowing river and traditional buildings from the lobby lounge. Spend a leisurely time at your own pace taking in the town's atmosphere. All the wonderful features and designs throughout the inn were the ideas of the inn's master.
We welcome everyone to please spend a moment of luxury in the hot spring town, Kinosaki, at least once. It's unforgettable.