Women visiting Kinosaki show favor to our priva...
Tenbouen
Women visiting Kinosaki show favor to our private bath, spa, bedrock bath, and germanium bath.
Rooms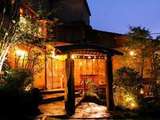 Tenbouen is a quaint little inn serving brand name cuisine, like Tajima beef (the beef where Kobe beef originates from) and Tsuiyama crab. We have been mentioned in several travel and specialty magazines for our highly popular baths. Many guests stay with us to enjoy our private open-air bath 'Tensui'(Heaven Water), the private bedrock bath, or our bath with germanium minerals. We offer an abundance of special features popular among our female guests, including aroma spas.

Stay in Kinosaki here at Tenbouen with our couple's plan, ladies' plan, or individual plan. These are among a few of our diverse plans to choose from.
Day trip with lunch for up to 10 people
Max capacity:8~15persons
Uses the main dinning hall or smaller private dinning room 'Koume'.

This is for guests using the lunch plan only. Guests on this plan can not spend the night.
Check-in is at 11:30a.m. and check-out is at 2:00p.m.