Gardens, cuisine, and an open air bath. A relax...
Tokiwa Bekkan
Gardens, cuisine, and an open air bath. A relaxing stay for each individual guest. Many have come back to stay at this hot spring inn.
Rooms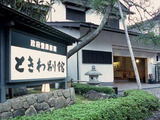 Away from the clatter and noise of the hot spring town, wonderful views from the comfort of the inn of our well manicured garden await out guests. The owner carefully watches over the entire 3,966 square meters of property with its 23 guest rooms. The guest rooms were designed with the natural features wood, earth, paper and light to give off a peacefully warm atmosphere. In these traditional rooms guests can have a relaxed dinner cuisine reflecting the current season. Tokiwa is known for being an inn with repeat guests and well adapted for individual travelers.
Note: 7 guest rooms were been remodeled and outfitted with attached open-air baths on October 23, 2009.
Villa guest room with Japanese cypress wooden bath
Max capacity:2~4persons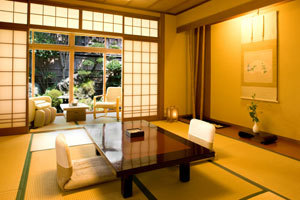 Room separated from the rest, looks out onto the small garden. The room is complete with a massage chair and bath made of Japanese cypress. This room feels like your own private retreat where you can leisurely spend your time relaxing.