Popular Japanese style open-air bath. Affordabl...
Suimei
Popular Japanese style open-air bath. Affordable lodging and meals prepared with fresh seafood.
Facilities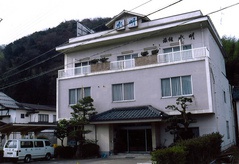 Seven open-air public hot spring baths, the most recently built located next to the train station(Sato no Yu). We are just a 7 minute walk from here (Free admission tickets to the open-air baths available), but there is also a shuttle to our inn. From the open-air bath at our inn you can enjoy the view of all four seasons, the picturesque starry night view is also a must see. It is free for our guests to use the inn's public baths for private bathing as well. There is a small and large bath available.
Ryokan information
Check-in

15:00~18:00
Check-out

~10:00
Address

630 Imazu , Kinosaki-cho , Toyooka-city , Hyogo

Suimei will be indicated by the flashing number (No.104)
Room types

Western style room(0)  Japanese style room(12)  Western/Japanese style room(0)  Total(12)
Room feautres

10 rooms have a restroom. All rooms have a T.V., AC unit, and refrigerator.
Meals served in guest room

Breakfast:No Dinner:Yes
Private/Reserved dinning in hall

Breakfast:Yes Dinner:Yes
Hot spring

Hot spring:Yes Family(private) bath:Yes Open air(outdoor bath):Yes Open air(outdoor bath) in guest room:No
Baths explination

Free to use for private bathing. The bath itself is made from specialty rocks from the nearby natural monument, Genbudo Caves, recently declared a world UNESCO site.
Amenities

Y
Small towel
Y
Body wash
Y
Hair dryer
N
Bidet
Y
Toothbrush,Toothpaste
Y
Soap
Y
Down comforter
N
Hair brush,Comb
Y
Large towel
Y
Yukata
Y
Shaver
Y
Shampoo(Shampoo/Conditioner)
N
Shower cap
Y
Conditioner
Y
TV

*Y=Yes N=No


Other Amenities

Yukata (cotton kimono), small and large towels provided.
Facilities

Reservable open air(outdoor) bath,Open air(outdoor bath),Guest parking,Vending machine,Shop,Game area,Body care service
Services

Postal service
Facility information

Parking available in front of and beside the inn's entrance.
Parking
Credit cards accepts

Credit cards are not accepted (cash only)
Kinosaki Onsen Ryokan Information Center



Need help finding your way around Kinosaki?
Please let us help.
We are located right in front of the Kinosaki train station, across the street. Between the bank and restaurant.

*Business hours 9am to 6pm. We suggest printing out a copy of this window and bringing it with you.
This will help you find your inn once you arrive in Kinosaki.

Address

78 Yushima, Kinosaki Town, Toyooka City, Hyogo Prefecture
(兵庫県豊岡市城崎町湯島78)

Access(Train)

From Osaka JR - Take the Ltd. Express Kounotori No.3* or No.5*,
or Take the Ltd. Express Kitakinki No.9*,No.13*, or No.15* to Kinosaki Onsen Station.(approx.time 163min.)

From Kyoto JR - Take the Ltd.Exp.Kinosaki No.3* or No.5* to Kinosaki Onsen station.(approx.time 145min.)

From Himeji JR - Take the Ltd.Exp.Hamakaze No.1* or No.3* to Kinosaki Onsen station.(approx.time 110min.)

*Times are limited, please check the train times at the station in advance.