Gardens, cuisine, and an open air bath. A relax...
Tokiwa Bekkan
Gardens, cuisine, and an open air bath. A relaxing stay for each individual guest. Many have come back to stay at this hot spring inn.
Facilities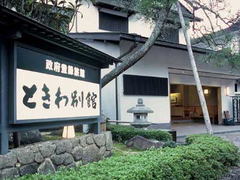 Away from the clatter and noise of the hot spring town, wonderful views from the comfort of the inn of our well manicured garden await out guests. The owner carefully watches over the entire 3,966 square meters of property with its 23 guest rooms. The guest rooms were designed with the natural features wood, earth, paper and light to give off a peacefully warm atmosphere. In these traditional rooms guests can have a relaxed dinner cuisine reflecting the current season. Tokiwa is known for being an inn with repeat guests and well adapted for individual travelers.
Note: 7 guest rooms were been remodeled and outfitted with attached open-air baths on October 23, 2009.
| | |
| --- | --- |
| Guest room looking out onto the Japanese garden. | One of our newly remodeled guest rooms, now with it's own open-air bath. |
| The gentlemen's public bath. (A stone open-air bath is located in the back/ the ladies' public bath has a Japanese cypress wooden open-air bath) | Enjoy watching the changing of the seasons in our garden. |
Ryokan information
Check-in

15:00~18:00
Check-out

~10:00
Address

1013 Yushima , Kinosaki-cho , Toyooka-city , Hyogo

Tokiwa Bekkan will be indicated by the flashing number (No.3)
Room types

Western style room(0)  Japanese style room(23)  Western/Japanese style room(0)  Total(23)
Room feautres

13 rooms the central courtyard w/ full bathroom, 7 rooms with open-air bath, 1 villa room with cypress wood bath, 2 spacious rooms with massage chair no bathtub, all rooms with bidet restroom.
Meals served in guest room

Breakfast:Yes Dinner:Yes
Private/Reserved dinning in hall

Breakfast:Yes Dinner:Yes
Hot spring

Hot spring:Yes Family(private) bath:No Open air(outdoor bath):Yes Open air(outdoor bath) in guest room:No
Baths explination

Men and women segregated public bath total capacity 25. Gentlemen's side has a beautiful but rustic stone open-air bath. The Ladies' side has a refined open-air wood bath made of Japanese cypress.
Amenities

Y
Small towel
Y
Body wash
Y
Hair dryer
Y
Bidet
Y
Toothbrush,Toothpaste
N
Soap
Y
Down comforter
Y
Hair brush,Comb
Y
Large towel
Y
Yukata
Y
Shaver
Y
Shampoo(Shampoo/Conditioner)
Y
Shower cap
Y
Conditioner
Y
TV

*Y=Yes N=No


Other Amenities
Facilities

Open air(outdoor bath),Guest parking,Lounge/tea room,Shop,Garden,Body care service,Humidifier
Services

Copier,Fax,Postal service
Facility information

Parking Available
Parking
Credit cards accepts

JCB, VISA, DC, Master Card
Kinosaki Onsen Ryokan Information Center



Need help finding your way around Kinosaki?
Please let us help.
We are located right in front of the Kinosaki train station, across the street. Between the bank and restaurant.

*Business hours 9am to 6pm. We suggest printing out a copy of this window and bringing it with you.
This will help you find your inn once you arrive in Kinosaki.

Address

78 Yushima, Kinosaki Town, Toyooka City, Hyogo Prefecture
(兵庫県豊岡市城崎町湯島78)

Access(Train)

From Osaka JR - Take the Ltd. Express Kounotori No.3* or No.5*,
or Take the Ltd. Express Kitakinki No.9*,No.13*, or No.15* to Kinosaki Onsen Station.(approx.time 163min.)

From Kyoto JR - Take the Ltd.Exp.Kinosaki No.3* or No.5* to Kinosaki Onsen station.(approx.time 145min.)

From Himeji JR - Take the Ltd.Exp.Hamakaze No.1* or No.3* to Kinosaki Onsen station.(approx.time 110min.)

*Times are limited, please check the train times at the station in advance.