Affordable hot spring inn without the meals, ce...
Miyoshi
Affordable hot spring inn without the meals, centrally located. Check-in until 10pm, hot spring discount tickets, free parking.
Facilities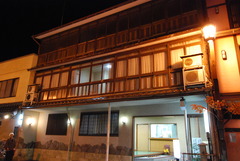 Miyoshi Inn is located in the most central part of Kinosaki Onsen. Our inn does not come with meal plans making it very affordable. It is within walking distance to many of the restaurants and open-air outdoor hot springs in Kinosaki. We also provide free tickets to the seven open-air hot springs, free parking, toothbrushes, rental towels and yukatas (cotton kimonos) all free of charge. Our guests are also welcome to reserve our private bath for free. Miyoshi Inn is a very reliable and safe inn, perfect for the single traveler.
Ryokan information
Check-in

15:00~22:00
Check-out

~10:00
Address

412 Yushima , Kinosaki-cho , Toyooka-city , Hyogo

Miyoshi will be indicated by the flashing number (No.36)
Room types

Western style room(0)  Japanese style room(8)  Western/Japanese style room(0)  Total(8)
Room feautres

All rooms have a TV and AC unit
Meals served in guest room

Breakfast:No Dinner:No
Private/Reserved dinning in hall

Breakfast:No Dinner:No
Hot spring

Hot spring:Yes Family(private) bath:Yes Open air(outdoor bath):No Open air(outdoor bath) in guest room:No
Baths explination

Our bath water is pumped from the natural hot springs. This bath can also be rented out for free for private bathing by our guests.
Amenities

Y
Small towel
N
Body wash
Y
Hair dryer
N
Bidet
Y
Toothbrush,Toothpaste
Y
Soap
N
Down comforter
N
Hair brush,Comb
N
Large towel
Y
Yukata
N
Shaver
Y
Shampoo(Shampoo/Conditioner)
N
Shower cap
N
Conditioner
Y
TV

*Y=Yes N=No


Other Amenities
Facilities

Guest parking,Body care service
Services

Copier,Fax
Facility information

Parking Available
Parking
Credit cards accepts

Credit cards are not accepted (Cash only)
Kinosaki Onsen Ryokan Information Center



Need help finding your way around Kinosaki?
Please let us help.
We are located right in front of the Kinosaki train station, across the street. Between the bank and restaurant.

*Business hours 9am to 6pm. We suggest printing out a copy of this window and bringing it with you.
This will help you find your inn once you arrive in Kinosaki.

Address

78 Yushima, Kinosaki Town, Toyooka City, Hyogo Prefecture
(兵庫県豊岡市城崎町湯島78)

Access(Train)

From Osaka JR - Take the Ltd. Express Kounotori No.3* or No.5*,
or Take the Ltd. Express Kitakinki No.9*,No.13*, or No.15* to Kinosaki Onsen Station.(approx.time 163min.)

From Kyoto JR - Take the Ltd.Exp.Kinosaki No.3* or No.5* to Kinosaki Onsen station.(approx.time 145min.)

From Himeji JR - Take the Ltd.Exp.Hamakaze No.1* or No.3* to Kinosaki Onsen station.(approx.time 110min.)

*Times are limited, please check the train times at the station in advance.