Cave bath carved from the mountain, a favorite ...
Morizuya
Cave bath carved from the mountain, a favorite with female guests. In the middle of Kinosaki with an open-air bath made from the mountain.
Rooms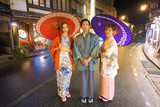 Located in the middle of the bustling hot spring town, conveniently located for shopping and visiting the open-air baths. With in our inn is our famous cave bath and open-air bath. Also on display inside the inn is the owner's personal collection of model replica cars, Harley Davidson Motorcycles, warplanes, and more. The popular designs of the guest rooms are thanks to the inn's proprietress. An aquarium sits in front of the entrance, filled with adorable fish from the paddies. The children love watching and interacting with the fish inside.
Of course all meals are served in the guests' rooms so that they can enjoy their meals in private and at their own leisure.
Beautifully colored yukatas (cotton kimonos) can be specially prepared and brought to the guests' rooms so that they may choose one to their liking, just ask the front desk.
We have two famous baths both available for private bathing until 6:30p.m. on the weekdays.
Enjoy your stay in the lovely and classical guest room designed by our proprietress. When you are ready to leave let us take you to the station in style with one of our executive style cars. Complete with leather interior and cushy seats for a luxurious ride.
Remodeled Japanese style room(designed by the inn's proprietress)
Max capacity:2~4persons
★Chef's recommended Tajima Kaiseki course★Dinner& breakfast served in guest room・Free reserved private hot spring

Dinner and breakfast included

JPY 19,800〜/person /night