A lovely little inn along the willow lined stre...
Ichidaya
A lovely little inn along the willow lined streets. Complete with private hot spring baths, offering crab and Tajima Beef (Kobe beef's origin).
Facilities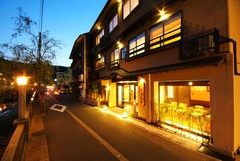 Located along the willow tree lined main street of Kinosaki Onsen. Perfectly located beside one of the famous hot springs, Jizo no Yu public hot spring bath. This beautiful modern Japanese style inn was remodeled 7 years ago.
During the winter guests can enjoy an abundant amount fresh king crab served right in their own rooms. From spring to autumn, guests can enjoy original banquet style dinners made with fresh seasonal ingredients. The popular Tajima Beef (this beef is better known as Kobe beef) can be added to any meal plan year round.
Inside the inn we have two private hot spring baths, one made of ceramic and the other of Japanese cypress wood. Guests who are staying the night and wish to try one or all seven of the open-air public hot springs around town, can use an electric pass card(Yumepa) to enter the baths.
Guests can relax in the lounge while sipping some of our rich aromatic coffee complimentary of the inn.
| | |
| --- | --- |
| Lounge looking out to the willow lined main street, free self serve coffee available. | Relaxing private ceramic hot spring bath with an Asian feel. (Reservations taken the same day, free of charge.) |
| Example of a guest room. (We can not take requests for specific rooms, our apologies for any inconveniences.) | One of our other private hot spring baths, a refreshing bathtub made of Japanese cypress wood. (Reservations taken the same day, no charge) |
Ryokan information
Check-in

15:00~17:30
Check-out

~10:00
Address

810 Yushima , Kinosaki-cho , Toyooka-city , Hyogo

Ichidaya will be indicated by the flashing number (No.89)
Room types

Western style room(0)  Japanese style room(8)  Western/Japanese style room(1)  Total(9)
Room feautres

All rooms have: T.V.,WiFi, AC unit, refrigerator, restroom w/ bidet.
Meals served in guest room

Breakfast:Yes Dinner:Yes
Private/Reserved dinning in hall

Breakfast:No Dinner:No
Hot spring

Hot spring:Yes Family(private) bath:Yes Open air(outdoor bath):No Open air(outdoor bath) in guest room:No
Baths explination

There are 2 hot spring baths that can be used be private bathing free of charge. Please make your reservations for one of the baths when you check-in.
Guests may also visit one or all seven of the famous open-air public hot spring baths located throughout the town. A digital pass card(Yumepa) can be made for our guests at the front desk, this makes entering the baths easier.
Amenities

Y
Small towel
Y
Body wash
Y
Hair dryer
Y
Bidet
Y
Toothbrush,Toothpaste
N
Soap
Y
Down comforter
N
Hair brush,Comb
Y
Large towel
Y
Yukata
N
Shaver
Y
Shampoo(Shampoo/Conditioner)
N
Shower cap
Y
Conditioner
Y
TV

*Y=Yes N=No


Other Amenities

The inn has original Yukatas (cotton kimonos) . From Mar.-Oct., our female guests are welcome to borrow one of our colorful yukatas for free (one per guest).
Facilities

Guest parking,Lounge/tea room,Body care service,Air purifier
Services

Internet,Postal service
Facility information

Parking Available
Parking
Credit cards accepts
Kinosaki Onsen Ryokan Information Center



Need help finding your way around Kinosaki?
Please let us help.
We are located right in front of the Kinosaki train station, across the street. Between the bank and restaurant.

*Business hours 9am to 6pm. We suggest printing out a copy of this window and bringing it with you.
This will help you find your inn once you arrive in Kinosaki.

Address

78 Yushima, Kinosaki Town, Toyooka City, Hyogo Prefecture
(兵庫県豊岡市城崎町湯島78)

Access(Train)

From Osaka JR - Take the Ltd. Express Kounotori No.3* or No.5*,
or Take the Ltd. Express Kitakinki No.9*,No.13*, or No.15* to Kinosaki Onsen Station.(approx.time 163min.)

From Kyoto JR - Take the Ltd.Exp.Kinosaki No.3* or No.5* to Kinosaki Onsen station.(approx.time 145min.)

From Himeji JR - Take the Ltd.Exp.Hamakaze No.1* or No.3* to Kinosaki Onsen station.(approx.time 110min.)

*Times are limited, please check the train times at the station in advance.