Entering through our main entrance feels like w...
Hakusan
Entering through our main entrance feels like walking into a Japanese cabin in the woods. Inside is a private partial open-air bath and delicious Japanese cuisine made with local products.
Facilities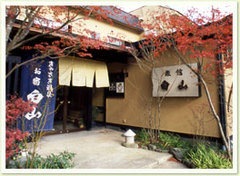 A jacuzzi bath with an open design looking over Maruyama River, stone bath, and reservable private partial open-air bath can all be used for private bathing. (Reservations are taken on a first come, first serve basis. It costs JPY 2,100 for 40 minutes)

Our newest reservable private and partial open-air bath is 'Madoka no Yu'. It's slightly on the small side but is filled with charm. Relax in the stone bath as hot spring water flows from the trees, into the stone basins and then into the bath.

The most popular partial open-air bath is 'Seseragi no Yu'. A small babbling mountain brook and lush undeveloped woodlands provide a natural and gorgeous backdrop. It isn't hard to see why our gardner calls this his best work. The bath is in an annex building, a short distance from the main building and has two separated baths (for men and women).

Our long awaited and anticipated guest rooms with attached private open-air baths, total of 5, are now available and awaiting their next guest. One room is equipped with a bath made specially from a rare umbrella pine wood.

There is a small picture book library in the lobby, with selections popular with children and ladies.

Don't pass up the chance to to experience the loveliness of a traditional Japanese hot spring town by wondering to the several open-air public hot spring bath houses. The popular 'Sato no Yu' is only a seven minute walk from here. For a more authentic feel we suggest wearing a traditional Japanese yukata(cotton kimono), provided by the inn, and don't forget your bag of bathing amenities.
Ryokan information
Check-in

15:00~18:00
Check-out

~10:00
Address

548-1 Imazu , Kinosaki-cho , Toyooka-city , Hyogo

Hakusan will be indicated by the flashing number (No.107)
Room types

Western style room(0)  Japanese style room(24)  Western/Japanese style room(0)  Total(24)
Room feautres

All rooms in the main building have a restroom (8 of the restrooms come with a bidet), TV, and individual AC unit, down comforter. 17 rooms have a refrigerator.
Meals served in guest room

Breakfast:No Dinner:Yes
Private/Reserved dinning in hall

Breakfast:No Dinner:Yes
Hot spring

Hot spring:Yes Family(private) bath:Yes Open air(outdoor bath):Yes Open air(outdoor bath) in guest room:No
Baths explination

The main building has a jacuzzi bath, stone bath, and reservable private partial open-air bath. (Reservations are not necessary. Guests can use the baths privately whenever they are unoccupied. Baths are available on a first come first serve basis. There is a charge for use of these baths.)
Amenities

Y
Small towel
Y
Body wash
Y
Hair dryer
N
Bidet
Y
Toothbrush,Toothpaste
Y
Soap
Y
Down comforter
N
Hair brush,Comb
Y
Large towel
Y
Yukata
N
Shaver
Y
Shampoo(Shampoo/Conditioner)
N
Shower cap
Y
Conditioner
Y
TV

*Y=Yes N=No


Other Amenities
Facilities
Services
Facility information

Parking for 60 cars.
Parking
Credit cards accepts

Cash Only
Kinosaki Onsen Ryokan Information Center



Need help finding your way around Kinosaki?
Please let us help.
We are located right in front of the Kinosaki train station, across the street. Between the bank and restaurant.

*Business hours 9am to 6pm. We suggest printing out a copy of this window and bringing it with you.
This will help you find your inn once you arrive in Kinosaki.

Address

78 Yushima, Kinosaki Town, Toyooka City, Hyogo Prefecture
(兵庫県豊岡市城崎町湯島78)

Access(Train)

From Osaka JR - Take the Ltd. Express Kounotori No.3* or No.5*,
or Take the Ltd. Express Kitakinki No.9*,No.13*, or No.15* to Kinosaki Onsen Station.(approx.time 163min.)

From Kyoto JR - Take the Ltd.Exp.Kinosaki No.3* or No.5* to Kinosaki Onsen station.(approx.time 145min.)

From Himeji JR - Take the Ltd.Exp.Hamakaze No.1* or No.3* to Kinosaki Onsen station.(approx.time 110min.)

*Times are limited, please check the train times at the station in advance.