About a 2 minute walk from JR Kinosaki Onsen St...
Terakawa
About a 2 minute walk from JR Kinosaki Onsen Station.This guest room sleeps up to 2 people
Facilities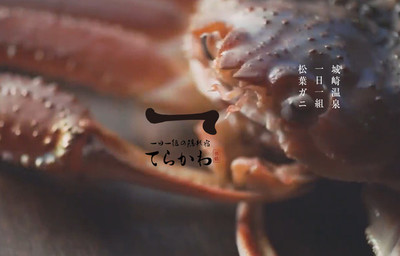 Onsen Plan(One night lodging no meals) A standard plan that includes a colorful yukata (cotton kimono) rental and passes to the public bathhouses. The inn will also provide you with a small towel, basket for carrying your belongings, and geta(Japanese wooden sandals). Want to enjoy your stay even more? Change into your yukata after you check in for your stay and take a stroll through the hot spring town. Feel free to visit any of the shops or restaurants while wearing your yukata. This wonderful chance to experience Japanese culture first hand will make your trip a fun and memorable one. ※Yukata sizes are based on height. Staff will also assist and teach you how to wear the yukata.
| | |
| --- | --- |
| Please enjoy and taste the certified Matsuba crab with a quality-verified tag on it. | [2F guest room] Simmons bed (semi-double size x 2) |
| [Restaurant on the 1st floor] Crab Cuisine Teragawa *By reservation only | Towada stone bath in the guest room. |
Ryokan information
Check-in

15:00~18:00
Check-out

~10:00
Address

111 Kinosakicho Yushima, Toyooka, Hyogo

Terakawa will be indicated by the flashing number (No.74)
Room types

Western style room(0)  Japanese style room(0)  Western/Japanese style room(1)  Total(1)
Room feautres
Meals served in guest room

Breakfast:No Dinner:No
Private/Reserved dinning in hall

Breakfast:No Dinner:No
Hot spring

Hot spring:No Family(private) bath:No Open air(outdoor bath):No Open air(outdoor bath) in guest room:No
Baths explination

The room is equipped with a guest room bath. In addition, you can fully enjoy Kinosaki Onsen with a 1-day free ticket pass for visiting seven outdoor hot springs.
Amenities

Y
Small towel
Y
Body wash
Y
Hair dryer
Y
Bidet
Y
Toothbrush,Toothpaste
Y
Soap
Y
Down comforter
Y
Hair brush,Comb
Y
Large towel
Y
Yukata
Y
Shaver
Y
Shampoo(Shampoo/Conditioner)
Y
Shower cap
Y
Conditioner
N
TV

*Y=Yes N=No


Other Amenities
Facilities

Guest parking,Shop,Air purifier
Services

Internet,Fax,Postal service
Facility information

There is a parking lot for guests only.
Parking
Credit cards accepts

Cash, Credit Card (Visa, Master, JCB)
Kinosaki Onsen Ryokan Information Center



Need help finding your way around Kinosaki?
Please let us help.
We are located right in front of the Kinosaki train station, across the street. Between the bank and restaurant.

*Business hours 9am to 6pm. We suggest printing out a copy of this window and bringing it with you.
This will help you find your inn once you arrive in Kinosaki.

Address

78 Yushima, Kinosaki Town, Toyooka City, Hyogo Prefecture
(兵庫県豊岡市城崎町湯島78)

Access(Train)

From Osaka JR - Take the Ltd. Express Kounotori No.3* or No.5*,
or Take the Ltd. Express Kitakinki No.9*,No.13*, or No.15* to Kinosaki Onsen Station.(approx.time 163min.)

From Kyoto JR - Take the Ltd.Exp.Kinosaki No.3* or No.5* to Kinosaki Onsen station.(approx.time 145min.)

From Himeji JR - Take the Ltd.Exp.Hamakaze No.1* or No.3* to Kinosaki Onsen station.(approx.time 110min.)

*Times are limited, please check the train times at the station in advance.