In front of 'Ichi no Yu' open-air bath in the m...
Kobayashiya
In front of 'Ichi no Yu' open-air bath in the middle of Kinosaki Onsen, the inns wood gives off a warm feeling.
Facilities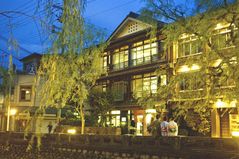 -Located in the middle of Kinosaki, wooden 3 story structure with traditional Japanese tea-ceremony arbors.
-The inn compliments the scenes of the weeping willow lined Otani River that runs along side it. From the four guest rooms located on the Otani River side of the building guests can watch yukata(cotton kimono) clad pedestrians walk along the tree lined river streets on their way to the open-air public baths.

-During the winter season (November~March) interested guests may borrow hot water bottles to help warm their bedding to make for a cozy winter sleep. (Only 10 hot water bottles available, so reserve your bottle when you arrive.)
-Colorful yukata (cotton kimono) rental available for both men and women, JPY 500 per yukata.
-Guests can also order a cake from the inn for special occasions, orders must be made at least 24 hours in advance.
| | |
| --- | --- |
| Most popular course year round, fresh seafood served on a boat platter. Also comes with Tajima beef (a.k.a. Kobe beef), a little bit fancy. | At the end of this meal mix your rice into the broth for a unique dish, rice soup! |
| The most popular and simple plan, comes with crab and Tajima beef (a.k.a. Kobe beef) for a culinary delight. | From November the long awaited crab season finally opens! |
Ryokan information
Check-in

15:00~18:00
Check-out

~10:00
Address

369 Yushima , Kinosaki-cho , Toyooka-city , Hyogo

Kobayashiya will be indicated by the flashing number (No.39)
Room types

Western style room(0)  Japanese style room(13)  Western/Japanese style room(0)  Total(13)
Room feautres

9 rooms with bidet restrooms, 4 rooms without restroom, all rooms with TV, AC unit, refrigerator, safe box, morning paper
Meals served in guest room

Breakfast:Yes Dinner:Yes
Private/Reserved dinning in hall

Breakfast:Yes Dinner:Yes
Hot spring

Hot spring:Yes Family(private) bath:No Open air(outdoor bath):No Open air(outdoor bath) in guest room:No
Baths explination

The bath is open from 3:00p.m. to 9:00a.m. the next morning. This lets guests enjoy the bath all night long. The women's bath and family (private) bath are interchangeable, please be aware of the changes between 3:00p.m. and 9:30p.m.
Amenities

Y
Small towel
Y
Body wash
Y
Hair dryer
Y
Bidet
Y
Toothbrush,Toothpaste
N
Soap
Y
Down comforter
N
Hair brush,Comb
Y
Large towel
Y
Yukata
Y
Shaver
Y
Shampoo(Shampoo/Conditioner)
Y
Shower cap
Y
Conditioner
Y
TV

*Y=Yes N=No


Other Amenities

Shower cap, conditioner, shampoo, hairdryer and shaver are located in the large public bath. A hairdryer can be borrowed at the front desk and taken back to your room.
Facilities

Guest parking,Vending machine,Body care service
Services

Internet,English support,Copier,Fax,Postal service
Facility information

Parking Available
Parking
Credit cards accepts

JCB, Visa, American Express, DC, Master Card
Kinosaki Onsen Ryokan Information Center



Need help finding your way around Kinosaki?
Please let us help.
We are located right in front of the Kinosaki train station, across the street. Between the bank and restaurant.

*Business hours 9am to 6pm. We suggest printing out a copy of this window and bringing it with you.
This will help you find your inn once you arrive in Kinosaki.

Address

78 Yushima, Kinosaki Town, Toyooka City, Hyogo Prefecture
(兵庫県豊岡市城崎町湯島78)

Access(Train)

From Osaka JR - Take the Ltd. Express Kounotori No.3* or No.5*,
or Take the Ltd. Express Kitakinki No.9*,No.13*, or No.15* to Kinosaki Onsen Station.(approx.time 163min.)

From Kyoto JR - Take the Ltd.Exp.Kinosaki No.3* or No.5* to Kinosaki Onsen station.(approx.time 145min.)

From Himeji JR - Take the Ltd.Exp.Hamakaze No.1* or No.3* to Kinosaki Onsen station.(approx.time 110min.)

*Times are limited, please check the train times at the station in advance.