Seasonal gourmet meals, a peacefully charming f...
Tsubakino
Seasonal gourmet meals, a peacefully charming feel, and satisfactory Japanese hospitality.
Facilities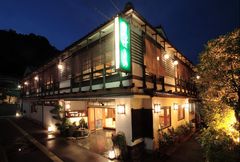 Perfectly situated for sightseeing around Kinosaki Hot Springs, we gladly accommodate any type of guest, from the single traveler to families. Guests can draw a picture of their travels at our post card corner, enjoy reading a comic book from our collection, or relax with a drink at our bar. These are just a few services we offer our guests to ensure that they have a pleasant stay. We would also like to recommend visiting our art gallery villa 'Hanatsubaki' or trying our luxurious private open-air bath.
| | |
| --- | --- |
| | |
| Private bath, 'Sarasa' bath | Private bath, 'Kazahana' bath |
Ryokan information
Check-in

15:00~18:30
Check-out

~10:00
Address

781 Yushima , Kinosaki-cho , Toyooka-city , Hyogo

Tsubakino will be indicated by the flashing number (No.85)
Room types

Western style room(0)  Japanese style room(20)  Western/Japanese style room(0)  Total(20)
Room feautres

14 rooms w/restroom, 6 rooms without restroom, all rooms have a washroom, refrigerator, digital LCD TV, AC unit.
Meals served in guest room

Breakfast:No Dinner:No
Private/Reserved dinning in hall

Breakfast:No Dinner:No
Hot spring

Hot spring:Yes Family(private) bath:Yes Open air(outdoor bath):Yes Open air(outdoor bath) in guest room:No
Baths explination

Public bath:
'Osaraku' is the smaller stone open-air bath with jacuzzi jets.
'Kochyou' is our Japanese cypress indoor bath, the woods aroma fills the air.

Private baths:
'Sarasa' bath is the first of its kind in Kinosaki! The ceramic bath is creates micro-bubble filled water. These micro-bubbles have shown to have beautifying effects on the skin.
'Kazahana' bath, a relaxing breeze blows through this bath made with Japanese cypress. The changing room floor is covered with waterproof traditional Japanese tatami(straw mats). There is also a bench in the rooms. These features help to make the bath more kid friendly
Amenities

Y
Small towel
N
Body wash
N
Hair dryer
Y
Bidet
Y
Toothbrush,Toothpaste
N
Soap
N
Down comforter
N
Hair brush,Comb
Y
Large towel
Y
Yukata
N
Shaver
N
Shampoo(Shampoo/Conditioner)
N
Shower cap
N
Conditioner
Y
TV

*Y=Yes N=No


Other Amenities

*Villa style rooms (w/toilet) come with hair dryers.
*Shavers, soap, body wash, shampoo+conditioner, and hairdryer are in the public bath.
Facilities

Non-smoking rooms,Reservable open air(outdoor) bath,Open air(outdoor bath),Guest parking,Vending machine,Shop
Services

Internet,Copier,Fax,Wheelchair,Postal service
Facility information

Free parking available (up to 16 cars)
Parking
Credit cards accepts

VISA, DC, UC, JCB
Kinosaki Onsen Ryokan Information Center



Need help finding your way around Kinosaki?
Please let us help.
We are located right in front of the Kinosaki train station, across the street. Between the bank and restaurant.

*Business hours 9am to 6pm. We suggest printing out a copy of this window and bringing it with you.
This will help you find your inn once you arrive in Kinosaki.

Address

78 Yushima, Kinosaki Town, Toyooka City, Hyogo Prefecture
(兵庫県豊岡市城崎町湯島78)

Access(Train)

From Osaka JR - Take the Ltd. Express Kounotori No.3* or No.5*,
or Take the Ltd. Express Kitakinki No.9*,No.13*, or No.15* to Kinosaki Onsen Station.(approx.time 163min.)

From Kyoto JR - Take the Ltd.Exp.Kinosaki No.3* or No.5* to Kinosaki Onsen station.(approx.time 145min.)

From Himeji JR - Take the Ltd.Exp.Hamakaze No.1* or No.3* to Kinosaki Onsen station.(approx.time 110min.)

*Times are limited, please check the train times at the station in advance.