Inside we\'ve created soothing surroundings wi...
Kinsui
Inside we've created soothing surroundings with sunken fireplaces and a salon.
Facilities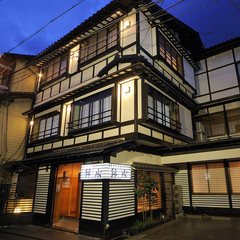 A 6 minute walk from Kinosaki train station. Set back one street from Kinosaki's main road in a quiet and calm setting. A 3 minute walk to Jizo no Yu and Yanagi no Yu. While staying with us you will be given free admission tickets to the outdoor public hot spring baths, you are welcome to enter the baths as many times as you wish.

We do not have public bath.

The majority of the rooms are Japanese style, with a few specialty rooms that are a modern fusion of Japanese and western style or purely western style.

| | |
| --- | --- |
| Main entrance and sunken fireplaces. | room |
| Example of one of our Japanese style rooms (with toilet and bath) | onsen town |
Ryokan information
Check-in

15:00~20:00
Check-out

~10:00
Address

759 Yushima , Kinosaki-cho , Toyooka-city , Hyogo

Kinsui will be indicated by the flashing number (No.58)
Room types

Western style room(0)  Japanese style room(17)  Western/Japanese style room(1)  Total(18)
Room feautres

restroom only in 16 rooms; AC unit in all rooms.
Meals served in guest room

Breakfast:No Dinner:No
Private/Reserved dinning in hall

Breakfast:No Dinner:No
Hot spring

Hot spring:No Family(private) bath:No Open air(outdoor bath):No Open air(outdoor bath) in guest room:No
Baths explination

Unfortunately we do not have a public bath.
Amenities

N
Small towel
N
Body wash
N
Hair dryer
Y
Bidet
N
Toothbrush,Toothpaste
Y
Soap
Y
Down comforter
N
Hair brush,Comb
N
Large towel
Y
Yukata
N
Shaver
N
Shampoo(Shampoo/Conditioner)
N
Shower cap
N
Conditioner
N
TV

*Y=Yes N=No


Other Amenities
Facilities

Non-smoking rooms,Lounge/tea room,Vending machine,Body care service
Services

Internet,English support,Copier,Fax,Postal service
Facility information

NO
Parking
Credit cards accepts

JCB, VISA(Please inform us of your payment method ahead of time)
Kinosaki Onsen Ryokan Information Center



Need help finding your way around Kinosaki?
Please let us help.
We are located right in front of the Kinosaki train station, across the street. Between the bank and restaurant.

*Business hours 9am to 6pm. We suggest printing out a copy of this window and bringing it with you.
This will help you find your inn once you arrive in Kinosaki.

Address

78 Yushima, Kinosaki Town, Toyooka City, Hyogo Prefecture
(兵庫県豊岡市城崎町湯島78)

Access(Train)

From Osaka JR - Take the Ltd. Express Kounotori No.3* or No.5*,
or Take the Ltd. Express Kitakinki No.9*,No.13*, or No.15* to Kinosaki Onsen Station.(approx.time 163min.)

From Kyoto JR - Take the Ltd.Exp.Kinosaki No.3* or No.5* to Kinosaki Onsen station.(approx.time 145min.)

From Himeji JR - Take the Ltd.Exp.Hamakaze No.1* or No.3* to Kinosaki Onsen station.(approx.time 110min.)

*Times are limited, please check the train times at the station in advance.