Popular choice among women, slightly fancy with...
Ryokufukaku
Popular choice among women, slightly fancy with a wealthy touch, calming, satisfactory cuisine for a perfectly bliss holiday.
Facilities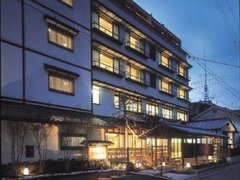 A 3 minute walk from Kinosaki JR train station, easy access to the all the open-air public bath houses and local shops. A gracefully calm inn styled after modernized Japanese tea-ceremony rooms. Just past the misted entrance is the lobby, with a light air of incense floating about. Following in traditional Japanese manners guests leave their shoes at the entrance upon entering. The quiet and immaculate interior, from the corridors to the elevator, is laid with new traditional Japanese tatami mats (straw mats) and has few steps. This allows for guests to walk barefoot and care free about the facilities.
Beautifully displayed seasonal flowers and our adorable Jizou San (guardian deity of children and travelers) art greets guests upon arrival. What else makes us extremely popular among our women guests are our gorgeous and exquisite original yukatas (cotton kimonos) that we lend to our guests.
In the evening guests enjoy original banquet style cuisines made from locally grown products. The menu changes every month, utilizing local seasonal ingredients.
Ryokan information
Check-in

15:00~18:00
Check-out

~10:00
Address

174 Yushima , Kinosaki-cho , Toyooka-city , Hyogo

Ryokufukaku will be indicated by the flashing number (No.68)
Room types

Western style room(0)  Japanese style room(24)  Western/Japanese style room(0)  Total(24)
Room feautres

All rooms have a full bathroom (with bidet), TV, AC unit, and refrigerator.
Meals served in guest room

Breakfast:No Dinner:Yes
Private/Reserved dinning in hall

Breakfast:No Dinner:No
Hot spring

Hot spring:Yes Family(private) bath:Yes Open air(outdoor bath):Yes Open air(outdoor bath) in guest room:No
Baths explination

The men's and women's sides of the baths change in the morning and evening.
Amenities

Y
Small towel
Y
Body wash
Y
Hair dryer
Y
Bidet
Y
Toothbrush,Toothpaste
N
Soap
Y
Down comforter
Y
Hair brush,Comb
Y
Large towel
Y
Yukata
Y
Shaver
Y
Shampoo(Shampoo/Conditioner)
Y
Shower cap
Y
Conditioner
Y
TV

*Y=Yes N=No


Other Amenities
Facilities

Open air(outdoor bath),Guest parking,Sauna,Body care service
Services

Postal service
Facility information

有り
Parking
Credit cards accepts

Visa, JCB
Kinosaki Onsen Ryokan Information Center



Need help finding your way around Kinosaki?
Please let us help.
We are located right in front of the Kinosaki train station, across the street. Between the bank and restaurant.

*Business hours 9am to 6pm. We suggest printing out a copy of this window and bringing it with you.
This will help you find your inn once you arrive in Kinosaki.

Address

78 Yushima, Kinosaki Town, Toyooka City, Hyogo Prefecture
(兵庫県豊岡市城崎町湯島78)

Access(Train)

From Osaka JR - Take the Ltd. Express Kounotori No.3* or No.5*,
or Take the Ltd. Express Kitakinki No.9*,No.13*, or No.15* to Kinosaki Onsen Station.(approx.time 163min.)

From Kyoto JR - Take the Ltd.Exp.Kinosaki No.3* or No.5* to Kinosaki Onsen station.(approx.time 145min.)

From Himeji JR - Take the Ltd.Exp.Hamakaze No.1* or No.3* to Kinosaki Onsen station.(approx.time 110min.)

*Times are limited, please check the train times at the station in advance.