A lovely inn centrally located in the heart of ...
Tajimaya
A lovely inn centrally located in the heart of Kinosaki Hot Spring town. A popular and stylish inn among couples and women.
Facilities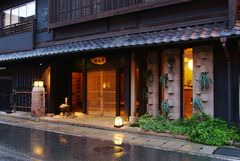 The inn's interior is accented with ancient wood and earthen walls, as well as bamboo creating a natural feel. The lobby and hallways are laid with traditional Japanese straw mats for a soothing atmosphere.
Twelve guest rooms' are designed with the popular and charming 'Modern Japanese' style. A rare extra found in our inn is heated flooring, this is something that our female guests especially appreciate during the chilly winters.
Three of our hot spring baths, one an open-air bath, can be used for private bathing. Guests can use these baths to enjoy a soothing hot bath at their own leisure, just simply jump in whenever the bath is free.
Our famous Tajima beef (better known as being the origin of Kobe beef) is served from spring to fall. In the winter snow crab is the main delicacy. All of our meals are made with locally raised products, especially for local consumption. Many of ingredients coming from the local Tajima mountains and Sea of Japan. Complete your meal with locally brewed Japanese sake and local beer. We proudly serve you your dinners in your own room so that you may continue to relax.
We also provide originally designed men's and women's traditional Japanese yukatas(cotton kimonos) for free rental.
| | |
| --- | --- |
| Guest rooms designed with ancient wood, earthen walls, and bamboo to give guests a warm and enjoyable stay. (Example room) | Wood and earthen walls create a warm and soft feeling interior. An appeasing aroma fills the lobby. |
| Heated floors throughout are a welcomed feature, especially among our female guests during the chilly winters. (Picture examples a guest room) | Water resistant tatami (Japanese straw mats) covers the floor of this pure Japanese style private bath 'Chikuyo no Yu'. There are a total of 3 baths, all can be used privately. |
Ryokan information
Check-in

15:00~19:00
Check-out

~10:00
Address

453 Yushima , Kinosaki-cho , Toyooka-city , Hyogo

Tajimaya will be indicated by the flashing number (No.24)
Room types

Western style room(0)  Japanese style room(12)  Western/Japanese style room(0)  Total(12)
Room feautres

All rooms have a TV, AC unit, restroom(with bidet)
Meals served in guest room

Breakfast:Yes Dinner:Yes
Private/Reserved dinning in hall

Breakfast:No Dinner:No
Hot spring

Hot spring:Yes Family(private) bath:Yes Open air(outdoor bath):Yes Open air(outdoor bath) in guest room:No
Baths explination

There are private baths located in 3 areas of our inn. Reservations are not necessary to use these baths, instead guests simply jump in whenever the bath is free. (If the baths are all occupied at the time you wish to use them, please let the front desk know. We will then put you onto a wait list and inform you of the baths availability as soon as one is free.)

Bathing ours: 6:00a.m. ~ 12:00a.m.(midnight)
Max usage time: Guests can use the bath for up to 45 minutes per bathing period.
Fee: These baths are free to guests.
Jacuzzi: Yes
There is conditioner, shampoo and body wash available in the baths.
Amenities

Y
Small towel
N
Body wash
Y
Hair dryer
Y
Bidet
Y
Toothbrush,Toothpaste
Y
Soap
Y
Down comforter
Y
Hair brush,Comb
Y
Large towel
Y
Yukata
Y
Shaver
N
Shampoo(Shampoo/Conditioner)
Y
Shower cap
N
Conditioner
Y
TV

*Y=Yes N=No


Other Amenities

Air purifier
Facilities

Reservable open air(outdoor) bath,Guest parking,Vending machine,Shop,Body care service,Air purifier
Services

English support,Copier,Fax,Postal service
Facility information

There is a free private parking lot beside the inn.
Parking
Credit cards accepts

Visa, JCB, DC, UC, Master card, Sezion, Dinners
Kinosaki Onsen Ryokan Information Center



Need help finding your way around Kinosaki?
Please let us help.
We are located right in front of the Kinosaki train station, across the street. Between the bank and restaurant.

*Business hours 9am to 6pm. We suggest printing out a copy of this window and bringing it with you.
This will help you find your inn once you arrive in Kinosaki.

Address

78 Yushima, Kinosaki Town, Toyooka City, Hyogo Prefecture
(兵庫県豊岡市城崎町湯島78)

Access(Train)

From Osaka JR - Take the Ltd. Express Kounotori No.3* or No.5*,
or Take the Ltd. Express Kitakinki No.9*,No.13*, or No.15* to Kinosaki Onsen Station.(approx.time 163min.)

From Kyoto JR - Take the Ltd.Exp.Kinosaki No.3* or No.5* to Kinosaki Onsen station.(approx.time 145min.)

From Himeji JR - Take the Ltd.Exp.Hamakaze No.1* or No.3* to Kinosaki Onsen station.(approx.time 110min.)

*Times are limited, please check the train times at the station in advance.