Sightseeing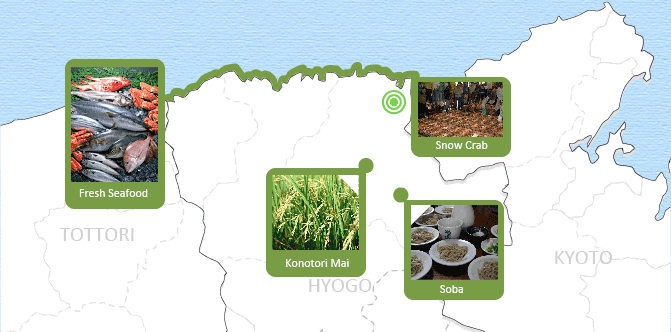 Tajima Beef

Tajima Beef, called so because the cattle that produce this special type of beef is raised in the northern parts of Hyogo Prefecture known as Tajima area. These cattle were originally used as work cattle called wagyu. The most well known high grade beef produced in Japan is Kobe beef. What isn't so well known is that Kobe beef is from the Japanese Black cattle bred in Tajima. Only Tajima cattle born and raised in Hyogo can be labeled Kobe beef. Restaurants that serve real Kobe, aka Tajima, beef are certified and display a small bronze Tajima cow statue, the official seal of authenticity. This beef is renowned as being one of the best because of the fat-marbilization and well balanced fat contents that make the meat especially tender and juicy. A few quick facts: The cattle are fed special organic blended food, they are not given beer, they do no get massaged, they have been pure breed for nearly 100 years, true Tajima/Kobe beef is not exported outside of Japan.
Snow Crab

Crab season starts from November and lasts until mid March. The most famous of the crab types served here in Kinosaki is Matsuba or Snow crab. The male Snow crab can grow to be as large as 15cm in diameter and 1kg in weight, a large crab in perfect condition can sell for as much as JPY 40,000. The Snow crab's meat is sweet and tender. The start of the crab season brings a large amount of visitors to Kinosaki hoping to satisfy their crab cravings. All the Snow crabs are caught fresh just off the coast near Kinosaki.
Fresh Seafood

The close proximity of the Sea of Japan and fishing ports allow for fresh sea food to be brought in daily. The majority of the seafood found at the local markets are all locally caught, supporting sustainable businesses. The local inns in Kinosaki get most, if not all, their seafood from the local fishermen. There is a wide range of seafood being caught daily, and it can all be seen at the local markets along the main streets in Kinosaki. Here you can find such seafood as: squid, octopus, eel, flounder, red snapper, crab, clams, muscles, turban shell, and much more.
Sara Soba

Soba is a type of Japanese noodle made from buckwheat, it is usually handmade from scratch in the back of most soba restaurants. Sara Soba is a style where a bite size amount of soba is placed on small individual plates. Served with the noodles is a light broth for dipping, chopped green onions, a raw egg, and wasabi. Simply add your preferred ingredients to the broth in the cup provided, then dip your soba noodles into the broth adding more flavor to the already delicious soba noodles. Five plates of soba are served per person for one order.
Konotori Mai

Konotori Mai, or Konotori Rice, is given the name of the famous Konotori (Oriental White Stork) native to the area because of how the rice is grown. At one point the Konotori was on the verge of extinction because their food supply and feeding grounds were disappearing due to pesticides and chemicals used in the growing of local crops, mainly rice. Through great care and effort the city of Toyooka has restored the bird to a safe number. To avoid similar problems in the future farmers have begun using organic methods for growing their rice crops. Such as hot water disinfection methods and use local organic materials as compost. The rice grown in these fields in northern Hyogo Prefecture are organic, safe, and environmentally friendly.