Like staying at your grandmother's in the count...
Yanagisou
Like staying at your grandmother's in the country side. The building is retro, but we do serve world class crab dishes.
Rooms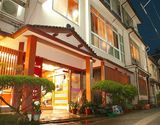 Centrally located and perfect for walking around to all the public outdoor hot springs. The inn is everything but fancy, an old fashioned 3 story wooden building with only the basic of facilities. We are known as the oldest looking inn with a bit of a retro fragrance. Even so, half of the travelers to our inn have become regular guests and thanks to them our simple little inn has thrived.
Our main selling point is our cuisine. Especially our individually prepared rich meals that use freshly caught seafood from the local market. Each meal's quality and quantity are sure to satisfy any guest.
Also, we treat our guests like family. Giving them the feeling like they are staying over at their favorite grandmother's house in the country. In fact the majority of our staff are grandmothers and mothers from the area. Our simplicity may not be ideal for some, but we encourage anyone to give us a try. Who knows, you might fall in love with our simple little inn.
Main building large room (no bath or restroom in room, fits 12)
Max capacity:7~12persons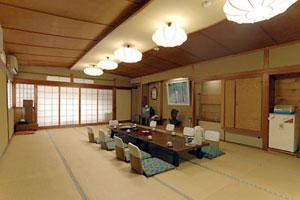 Japanese style room approx. size 40m^2. Includes a veranda. Does not have a bath or restroom in the room, but is reasonably priced. In the same building are 2 public baths that use 100% natural hot spring water, located on the 1st floor. (The baths are segregated between men and women.)