Access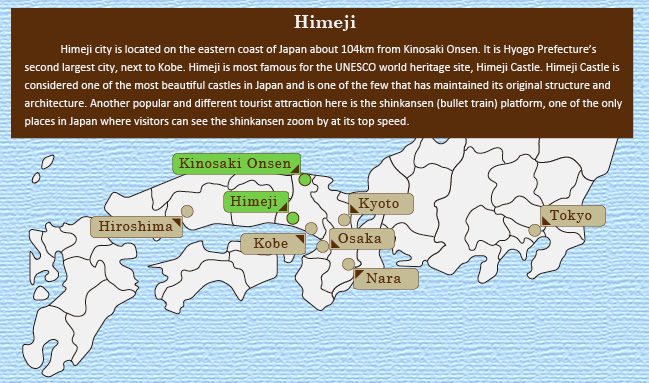 Himeji JR Station

Feel the speed of the Shinkansen, a.k.a bullet train, from the platform at JR Himeji station as it rushes past you just a few meters (feet) away. Himeji Station is one of the only places that you can experience the bullet train at its max speed, 300kmh (186mph). The bullet train is allowed to travel its max speed while going through Himeji Station and the tracks in this area are a straight away.

Access
Follow signs to the Shinkansen 新幹線 platform on the 3rd floor of the station. You will need to by a platform ticket for about JPY 120. It's free for JR Pass holders.
Himeji Castle

A national treasure and UNESCO world heritage site. This castle is one of Japan's most beautiful castles, with its original architecutre well preserved. It is one of the few castles that was never destroyed by war, fire, or earthquakes. Unlike other castles that were destroyed and rebuilt as replicas and museums, Himeji Castle survives in its original form and beauty. Next to the castle there are nine gardens where visitors can stroll through. The area use to house the former lord's residence and other samurai houses in the Edo period. Within the gardens is a traditional Japanese tea house where you can enjoy an authentic tea ceremony with a beautiful view of the castle and surrounding gardens.

Access
From JR Himeji Station exit the central exit. Follow the main street to the end where it dead ends into the castle. About a 15 minute walk.
Shosazan Engyoji

Founded in 966 by Shoku Shohin, Shosazan Engyoji is a complex of buildings sitting at the top of Mt. Shosa. The temple grounds are quiet and tranquil, attracting pilgrims and tourists from all over the nation year round. The largest buildings are Maniden Temple and Daikodo Lecture Hall. Engyoji and Mt. Shosa also provided the background for scenes from the Hollywood movie 'The Last Samurai'.

Access
Take the Shinki bus for Shosha Ropeway from JR or Sanyo Railway Himeji Station and get off at the final stop. Then take the Ropeway to up-hill station. It's then about a 20 minute walk to Maniden, the first main building.