Access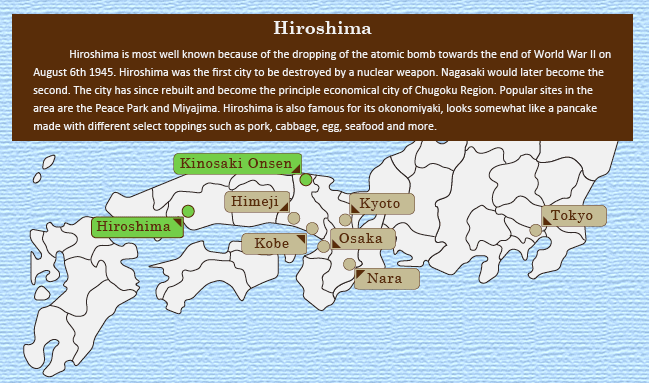 Hiroshima Peace Park

The area was originally known as the political and commercial center of the city, for this reason it was chosen as the drop zone for the atomic bomb. On August 6th 1945, at 8:15 a.m. the atomic bomb was dropped over the city, obliterating nearly everything within a two kilometer radius and killing over 220,000 people, either directly or as a result of radiation. The area was rebuilt against the perception that the area would never be habitable again. The park's main facility is the Peace Memorial Museum. Two buildings survey the history of Hiroshima and the advent of the nuclear bomb. Mainly focusing on the events of August 6th. A short distance from the museum is the A Bomb Dome, one of the only remaining buildings to survive the explosion and declared a UNESCO world heritage site. Between the A-Bomb Dome and museum is the cenotaph for the A-Bomb victims.

Access
From Hiroshima station take the tram line 2 or 6 to Genbaku Domu Mae Station, about a 15 min. ride.
Miyajima

A small island just outside Hiroshima. It is most famous for its giant torii gate (a vermilion painted pillar gate marking the entrance to a sacred place) built in the bay, which at high tide appears to float on top of the ater. The sight is ranked as one of Japan's three best views. The island's main shrine is Itsukushima, also built over water. If one has time, a hike around the island on one of its many trails is highly recommended. One of the best courses is Daisho-in Course. This course offers the nicest views, is not as steep as the others and leads to the summit of Mount Misen, the highest mountain on the island. Along the trails you may also run into some of the islands native inhabitants, deer and mountain monkeys.

Access
From JR. Hiroshima Station take the JR. Sanyo Line to Miyajimaguchi Station. Walk a short distance to the ferry pier for a ferry that will take you to the island. It is also accessible by direct boat from Hiroshima Peace Park.