Access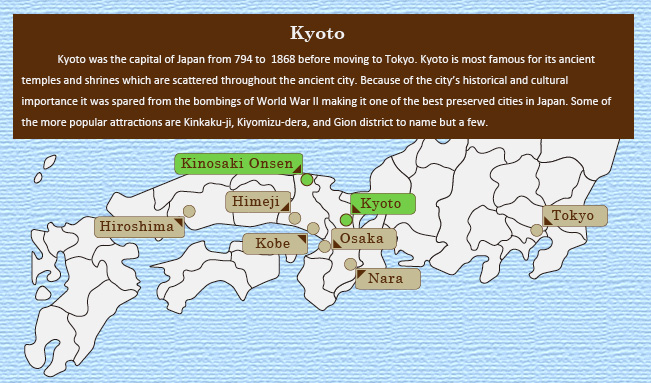 Nishiki Market

Nishiki Market, also known as Kyoto's Kitchen, is a lively five block long shopping street lined with over a hundred shops of varying food and merchandise. This is a great place to find local and seasonal culinary specialties such as fresh seafood, Japanese sweets, pickles, sushi and much more. Some shops offer free samples of their mostly locally items. This market has been around since 1310, some shops found today have been passed down through the family for generations. It still remains to this day as an important and popular market packed with locals and tourists.

Access
One block from and running parallel to Shijo Avenue. A 5 minute walk from Shijo Station on Karasuma Subway Line.
Fushimi Inari Shrine

Fushimi Inari is the most important of Inari shrines dedicated to the Shinto god of rice. The shrine has ancient roots dating back before the capital's move to Kyoto in 794. The shrines trade mark is the thousands of vermilion torii gates that straddle a network of walking trails behind the main building. Along the trails visitors will find smaller shrines scattered about and several fox statues. The fox is believed to be the sacred messengers of Inari. A hike to the top of the mountain trails takes about 2 to 3 hours but visitors are free to hike the trails at their own pace.

Access
From Kyoto station take a local train on the the JR Nara Line down two stations to Inari Station (about 5 minutes). Then follow the signs to the shrine, it is a short walk from the JR Inari Station.
Kiyomizu Temple

The approach to this UNESCO world heritage site in Kyoto is lined with several stalls selling specialty products and souveniers of Kyoto. At the main temple of Kiyomizu Temple, meaning Pure Water Temple, visitors are treated to a panoramic view over the ancient capital of Japan from the large wooden stage jutting out from the main hall and above the hillside below. Behind Kiyomisudera's main hall is Jishu Shrine dedicated to the deity of love and matchmaking. In front of this shrine are two stones set 18 meters apart. If one was to succesfully travel from one stone to the next with their eyes shut, they will be given luck in finding love. Then at the base of Kiyomizudera is the Otowa Waterfall. The water is channeled into three streams. Depending on which stream you drink from it is said that you will be given longevity, success at school, or a fortunate love life. However, drinking from all three is considered greedy.

Access
From Kyoto Station take bus number 100 or 206 and get off at Kiyomizu-michi bus stop (about 15 minute ride). From the bus stop walk uphell about ten minutes to the temple.
Kinkakuji (Golden Pavilion)

Golden Pavilion is a Zen temple, the top two floors are completely covered in gold leaf. The building was destroyed twice by fire. The current building was built in 1955. The first floor's wooden pillars and white plastered walls reflect palace style architecute, the second floor architecture is reminisent of samurai residences, and the third floor is designed after a Chiines Zen Hall.

Access
From Kyoto Station take the Kyoto city bus No. 101 or 205 about 40 minutes to Kinkakuji.
Tetsugaku no Michi (Philosopher's Path)

The Philosopher's Path (Testsugaku no Michi). A quiant 2 km stone path along a canal lined with hundreds of cherry trees. The path gets it's name from Nishida Kitaro, one of the Japan's most famous philosophers. He was said to practice meditation during his strolls on the path on his way to Kyoto University. Small boutiques, cafes, Japanese restaurants and smaller shrines and temples are scattered along the path. The path is especially beautiful during the spring and autumn when the cherry blossoms are in bloom and the leaves change color.

Access
From Kyoto Station take the Kyoto city bus No. 5 or 17 to Ginkakuji (Silver Pavilion). The path is about a 7 min. walk from Ginkakuji.
Sanzenin Temple

Located in the rural town of Ohara, about an hour north of central Kyoto. Sanzenin Temple is of the Tendai sect of Japanese Buddhism. The sect and the temple itself was founded by the revered monk Saicho. Sanzenin Temple is a Monzeki temple, one of just a few temples whose head priests used to be members of the imperial family. There are several temple building that visitors can pass through by the connecting corriors. One displays works of Japanese calligraphy and paintings on sliding doors and another opens up onto the Shukekien Garden, a traditional Japanese Garden with a small pond and hill. The most famous view of Sanzenin Temple is of the Ojo Gokuraku-in Hall and its moss garden with maple and cedar trees, as seen from Shinden (main hall).

Access
From Kyoto Station take take the Karasuma Subway Line to Kokusaikaikan Station (20min.). Then the Kyoto City Bus No. 19 to Ohara (20min.).
Capsule hotel, 9 Hours

When staying in Japan another must stay typical Japanese hotel, aside from the traditional Japanese inn, is a capsule hotel. Those are the hotels with rooms like sleeping in a tub. A popular, new, and very modern capsule hotel located in Kyoto has become an instant craze amongst foreign travelers to Japan. This is the capsule hotel 9 Hours. The lobby and the entire building and facilities is very modern, simple and sleek. This capsule hotel also caters to female guests with rooms on seperate floors. Staying here is like staying in a futuristic space station, almost.

Access
9 Hours Capsule Hotel is a 2 minute walk from Hankyu Kawaramachi Station in Kyoto. The hotel has its own website: http://9hours.jp
Suggested Kyoto tourism links