Access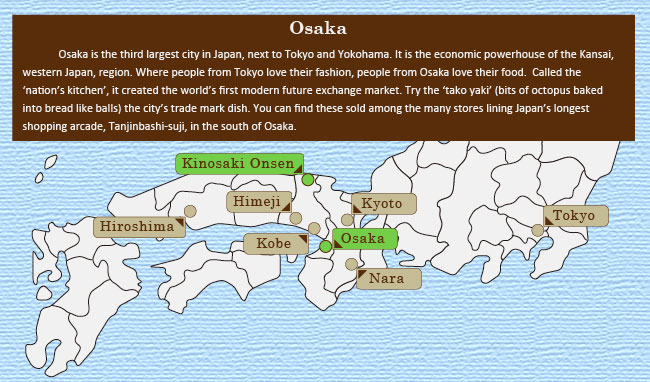 South Osaka,Nanba

One of Osaka's two major city centers. A busy section any time of the day or night. Famous for its shopping with retailers providing the latest fashion. Walking around Amerikamura you are sure to spot some unique fashion trends. There is also Nipponbashi Den Den Town known for its electronics and manga. If your a night owl then Dotonbori entertainment district is perfect for you. There are many bars and clubs that come to life late at night until early morning. Dotonbori is a popular tourist destination with plenty of food selections. This is also where you will find the famous Glico Running Man sign and Kani Doraku crab sign.

Access
From JR. Osaka Station transfer to the subway. Take the Midosuji Subway Line to Nanba Station.
National Bunraku Theater

Bunraku is recognized as the most highly developed puppet theatre style in the world. It is also one of the only puppet theatres where the puppet manipulators appear openly to the audience. It takes three puppeteers working in harmony to bring the doll to life. The highest ranking puppeteer controls the doll's head, facial expressions, and right arm. There is no other art that requires an entire day to let the entire story unfold. Here at the National Bunraku Theater in Osaka visitors can view this fascinating and traditional art form. English programs and earphones are available to help understand the story line. Operating hours and show times should be researched before going.

Access
From JR. Osaka Station take the Midosuji Subway Line to Namba (stop M20) and transfer to the Sennichimae Subway Line, then get off at Nippon Bashi Station (stop S17). Exit through exit No. 7. It is about a 1 minute walk from here.
Mt. Koya

Mt. Koya is not actually in Osaka but it is easiest to access through Osaka. Mount Koya is the center of an important Buddhist sect in Japan. The head temple Kongobuji was built in the mid 800s on Mt. Koya's wooded mountaintop. Since then over one hundred temples have popped up along the streets of Mt. Koya. This is also the site of Kobo Daishi's mausoleum one of Japan's most significant religious figures. This is also the starting and ending point of the Shikoku 88 Temple Pilgrimage. Mount Koya also provides a unique opportunity to experience a Buddhist monk's lifestyle by staying overnight at the temple lodging. Here you can eat traditional vegetarian monk cuisine and attend the morning prayers. (Reservations in advance required for lodging.)

Access
From JR. Osaka Station transfer to the subway. Take Midosuji Subway Line to Namba Station and transfer to the Nankai Koya Line. Either take a limited express train (goes directly to Gokurakubashi in 80 minutes) or an express or rapid express train (requires a transfer at Hashimoto Station) to Gokurakubashi Station. At Gokurakubashi Station transfer to the cable car which travels up the mountain. From the top it is a ten minute bus ride in to the town center. (Note: Pedestrians are not allowed to walk along the road connecting the cable car station and town center.
Spa World

Spa World in Osaka is a large complex complete with hot springs (themes after different countries), a pool with water slides, training gym, salon and spa, restaurant, hotel and relaxation room. You can pay by the hour or buy a one day pass.

Access
From Osaka Station take the Midosuji Line to Dobutsuenmae. Exit through the subway exit No. 5.