Access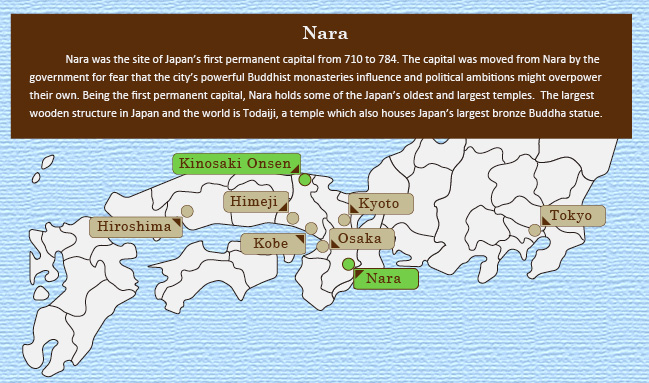 Nara Park

Nara Park is a beautiful lawn park with groups of deer roaming freely. The deer are use to humans, but are still wild deer. The deer are considered sacred messengers of the gods. There are vendors located around the park that sell Shika Senbei (deer crackers) which can be bought and fed to the deer. Be careful, the deer can be a little greedy with the crackers.

Access
It is only about a 15 minute walk from JR. Nara station to the park.
Todaiji Temple

Built in 752 as the head temple of all provincial Buddhist temples in Japan. The temple's power and influence on government fairs grew to be too much, so the capital was moved from Nara in 784 to lower the temple's power. Todaiji is the world's largest wooden building and houses Japan's largest bronze Buddha Statue, Daibutsu. However, the temple's current size is only two-thirds of the original size. A fun attraction in the temple is a hole cut into the base of a pillar located behind the Daibutsu. The hole is the same size as the Daibutsu's nostril. It is said that those who can squeeze through will receive enlightenment in their next reincarnation. If you are worried about getting stuck, don't worry the local fire department has apparently unstuck a many seeking enlightenment.

Access
From JR. or Kintetsu Nara Station take bus No. 1, 2, 6, 52, 70, 88, 89, 97, 98, or 133 to Daibutsuden Kasugataisha Mae. It is then about a 5 min. walk from the bus stop.