Access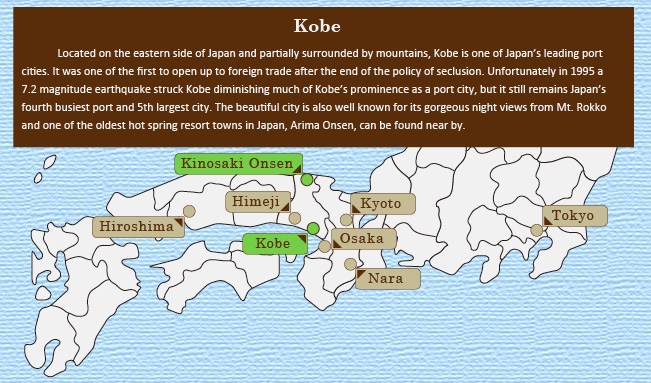 Kobe Harborland

Kobe Harborland is a popular shopping and entertainment district along the waterfront. A pedestrian's paradise with pedestrian only promenands, including a waterfront boardwalk and the Gaslight Street that is lit in the evenings by old fashioned gas street lights. A wide variety of boutiques and restraunts can be found, some overlooking the harbor. There is also a small amusement park with a ferris wheel and other small attractions.

Access
bout a 5 minute walk from JR Kobe Station. Exit 3 or 2.
Nada Sake

Nada district in Kobe has long been well known for its sake (Japanese rice based alcohol). The high quality of the sake produced in Nada is because they use the highest quality rice and fresh water from the local Rokko Mountain Range. Its close proximity to Kobe Port also makes it the world's top sake producing region.At the Hakutsuru Sake Brewery Museum visitors can see the sake brewing process and also do a little taste testing.

Access
From the Kobe Station take the JR or Hanshin line to Sumiyoshi, the 3rd station from Kobe. It is then about a 5 minute walk to local sake brewery district and Hakutsuru Sake Brewery Museum.
Mount Rokko

Mount Rokko is the highest peak in the Rokko mountain range that makes up the lush forestry backdrop of Kobe. Panoramic views over the Hanshin region (Kobe and Osaka) can be enjoyed from the Rokko Garden Terrace. The view of the city lights glimmering below at night is especially spectacular. From the top you can choose to go down either side of the mountain to Arima Onsen or the city of Kobe via the ropeway or cable car, all while continuing to enjoy the mountain range's scenery.

Access
rom JR Kobe Station go to Sannomiya Station and transfer to the Hankyu Kobe Line to Rokko Station (7 minutes). From Rokko Station take bus No. 16 to the base station of the Rokko Cablecar. Ride the cablecar up the mountain to the top.